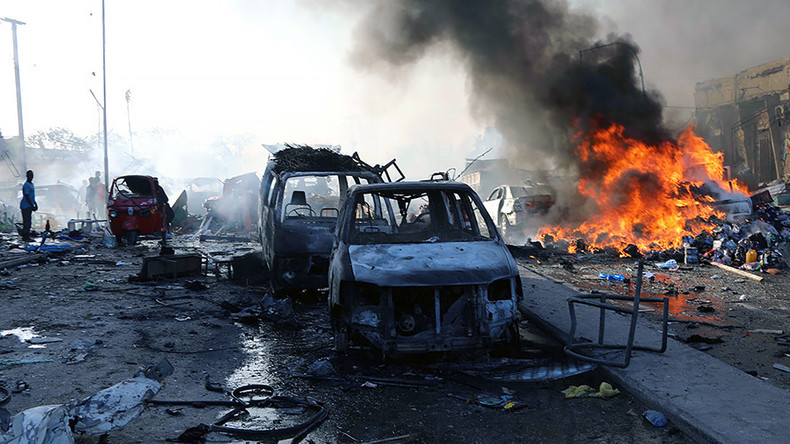 The death toll from two car bomb explosions in Somalia's capital, Mogadishu has risen to 85, police say. The Saturday's attack has become one of the deadliest in the recent history of the country beset by an Islamist insurgency.
The first blast happened near the Safari Hotel, close to Somalia's Foreign Ministry. The blast area lies in the center of the city where government offices, hotels, restaurants, and shops are located, police said.
The second explosion took place in the city's Madina district hours later, according to police.
READ MORE: Scores killed in car explosion near hotel in Somali capital (VIDEOS, PHOTOS)
"The number of dead has risen to 85. We know some 100 who were injured," Mohamed Hussein, a police official, told Reuters on Sunday.
The attacks happened just two days after the head of US Africa Command was in Mogadishu to meet with Somalia's president, Mohamed Abdullahi Mohamed.
No group has claimed responsibility for the attack so far. However, similar assaults in the country have been blamed on fighters from Islamic extremist rebel group Al-Shabaab.
The group controlled Mogadishu from 2006 until August 2011, when African Union (AU) and Somali forces pushed them out of the capital. The extremists have launched regular attacks on the city since 2011.
Al-Shabaab has repeatedly targeted army bases and communities across the southern and central parts of the country.
The deadliest incident over the past decade was an attack on the Transitional Federal Government's ministerial complex in Mogadishu in 2011, when a suicide bomber drove a truck loaded with explosives into the building, killing at least 100 people. Al-Shabaab claimed responsibility for the attack.